Skiing Venezuela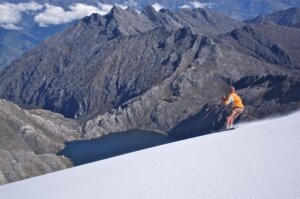 PICO HUMBOLDT—FROM THE JUNGLE TO THE SNOW
I have never been a great believer in fate. I am of the opinion that we humans, for the most part, create our own destiny. Our decisions, drive, and determination are what give us our ultimate results, and yet, there are some occasions when one cannot deny that the stars and planets must have been aligned just right to give an extra impetus to our own personal input. Conversely, there are other times when, no matter how hard we try, the fates seem to be aligned against us—throwing obstacles into our path to test our faith and will power.  My recent journey to Venezuela included twists of fate and destiny in both directions.
I arrived in the university city of Merida in late October. This city of about 310,000 people seems much smaller, with a friendly and easy-to-get around center, and is described in Lonely Planet as, "an affluent Andean city with a youthful energy and a robust arts scene." I did not travel here, however, in search of the arts or to immerse myself into the nightlife of the university hangouts. I came, instead, with only one goal in mind—to ski in Venezuela.
There can certainly be no more Quixotic mission than skiing in Venezuela. This beautiful country of lush rainforest, vast savannah, and steaming marshlands is situated just eight degrees north of the equator. The friendly local inhabitants are as likely to know something about skiing as they are to become Arctic explorers. And yet, the southwestern corner of the country marks the northern end of the mighty Andes, and the peak of Mt. Bolivar rises above the rainforest, the cloud forest and the rest of the surroundings to the lofty pinnacle of 4,981 meters.
The complete story is in the coffee table book Skiing Around the World Volume II by Jimmy Petterson.
---