Skiing USA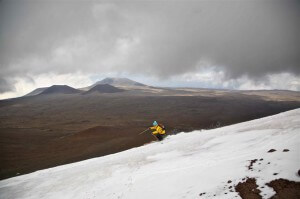 POLYNESIAN POWDER—SKI HAWAII
Let's go surfin' now,
Everybody's learnin' how,
Come on and safari with me…
Brian Wilson penned these words and many more such lyrical odes to big waves and surfing in the early 1960s, and thousands upon thousands of people followed his advice and headed to the shores of Hawaii. Whether Brian and his Beachboys led the surfing craze or whether they merely musically captured and cashed in on the latest teen trend is immaterial. Surfing and Hawaii became synonymous. Beginners learned and practiced on Waikiki Beach, while the pros challenged the big waves of Waimea Bay, Sunset Beach, and the Banzai Pipeline.
Wilson never wrote a word about skiing in Hawaii, but he certainly could have. On the so-called "big island"—actually named Hawaii—the dormant volcano of Mauna Kea rises 4205 meters into the rarified Hawaiian air. Every winter, at some time or another, one can ski the Polynesian powder of the big island.
Everybody has a bucket list. Come on. Be honest. You might call it by a different name—a wish list or a dream list, but you have one, right? I am a skier, and a number of things on my list are skier's wishes. Ever since the first time I heard about skiing on Hawaii, I have wanted to go there in the heart of winter and ski on the big volcano.
The complete story is in the coffee table book Skiing Around the World Volume II by Jimmy Petterson.
---