Skiing United Arab Emirates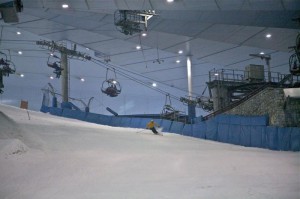 MODERN MIRACLE OR SKI DOME DYSTOPIA
The United Arab Emirates is a loose confederation of seven kingdoms. By far the largest of the emirates is Abu Dhabi, which covers 87% of the land, and the most well known of the desert fiefdoms is Dubai. Like Qatar, not too long ago, the UAE was a poor region of the world, but oil began to be exported in 1962, and since then, the confederation has enjoyed great success and rapid modernization. Seven seems to be the lucky number for the UAE, for not only are there seven emirates, but the country also has the world's seventh largest oil reserves and they are in seventh place in per capita GDP.
Somewhat afraid of their economic dependence on oil, the Emirates and particularly Dubai have attempted to diversify their economy in recent years, and a lot of that focus has been on tourism. In 1999, Burj al Arab, the world's first seven-star hotel opened its doors. Here, if you have a bit of spare change in your pocket, you can check into the royal suite for somewhere in the neighborhood of 15,000 Euros a night, give or take a few green colored notes. Of course, for that sum of money, you can spread your baggage out over almost 800 square meters of space.
In 2004, construction began on Burj Khalifa, at 828 meters, today's tallest building.
That is about when the Mall of the Emirates and Ski Dubai enter the picture. The mall itself is one of the world's largest, and the indoor ski center is the crown jewel that in many ways put the mall on the international map. It opened to much fanfare in 2005, with a quad chair, a Poma lift, and five runs of 85 vertical meters.
The complete story is in the coffee table book Skiing Around the World Volume II by Jimmy Petterson.
---