Skiing Switzerland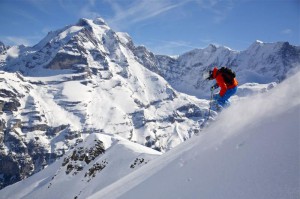 JAMES BOND, SIR ARNOLD LUNN, AND THE EIGER
The year was 1968, and after five successful portrayals of James Bond, Sean Connery decided that he didn't wish to be typecast in this role for the rest of his career. The producers frantically sought a replacement and ultimately decided on George Lazenby, an unknown Australian with little acting experience.
The new movie was to closely follow the storyline of one of Ian Fleming's best books, On Her Majesty's Secret Service, a story in which Bond not only falls in love, but also gets married to the Contessa Teresa di Vicenzo. The bad guy in this tale is Bond's archenemy Ernst Blofeld, who is to be played by one of the most dastardly, villainous character-actors of that era, Telly Savales, and the plot in the 1963 novel has Blofeld holed up in the Piz Gloria, a mountaintop hideout.
A new Bond, an evil enemy, and a great love story…now a suitably exotic location must be found to film the adventure. At the time when production was due to begin, a revolving restaurant—one of the first of its kind—was being constructed high atop the Schildhorn above the ski village of Mürren. The producers found this unfinished restaurant suitable for their needs and the rest is history. The Bond producers helped finance the completion of the restaurant in exchange for the exclusive right to film there, and it still carries the name originally coined in Fleming's novel—Piz Gloria.
Early in the film, Bond has infiltrated Blofeld's stronghold, where ten beautiful women are being brainwashed to fulfill his evil scheme to threaten the world with bacteriological warfare. Bond blows his cover when he tries to seduce one of the beauties and is forced to flee. He makes a dramatic descent on skis, with Savales and his henchmen giving chase with automatic rifles. Bond finishes his long escape by turning and jumping on just one ski, but that is still good enough to outlast the enemy, with the final pursuer plunging to his death over a gargantuan precipice.
My friend Rupert Scheiner and I arrived at the Piz Gloria more than 40 years later, along with Swiss mountain guide Hansueli Klossner. . .
The complete story is in the coffee table book Skiing Around the World Volume II by Jimmy Petterson.
---