Skiing Spain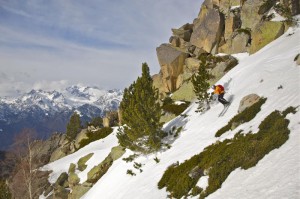 CERLER—FREERIDE, TAPAS, AND SOMONTANO VINO
Many people ask me to recommend good locations for skiing off-piste. Often, the best general advice that I can give is to avoid the resorts that market themselves as freeride Meccas and to seek out the locations that cater to families. My reasoning should be obvious. The self-acclaimed off-piste paradises are generally teeming with powder freaks and the family resorts often offer untouched powder for days on end, while mom and dad putter around the blue pistes with their offspring.
The little known resort of Cerler in the heart of the Spanish Pyrenees fits the bill perfectly. It is a purpose-built resort of primarily three-star family-style hotels about six kilometers up the mountain from the village of Benasque. My friend Klaus Arpia and I checked in last February to just such a hotel—the HG Cerler—101 rooms and apartments that cater to families.
Cerler is situated in the highest part of the Pyrenees surrounded by various peaks that exceed 3000 meters, including the highest top in the range, Aneto (3404 m), as well as Pic de Posets (3369 m), Maladeta Oriental (3308 m), Maladeta Occidental (3254 m), and Pico Alba (3108 m).
The rest of the statistics about Cerler are also very respectable—72 kilometers of trails, 14 lifts, and 1150 vertical meters of skiing, not to mention that the Canal de Gallinero piste is a full nine kilometers long.
The real story, however, at least for off-piste aficionados, often lies between the lines, or in this case, between the pistes. It is in between the various marked trails of Cerler that there are many possible routes to keep the powder hounds and off-piste fans busy for quite some time, and the resort is definitely not part of the ski-bum circuit. This is truly where mama and papa Garcia are teaching little Maria and Alejandro how to ski on the bunny hill all day while the fresh snow lies invitingly untouched nearby.
The complete story is in the coffee table book Skiing Around the World Volume II by Jimmy Petterson.
---