Skiing South Africa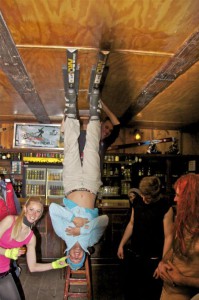 TIFFENDELL—UPSIDE-DOWN SHOOTERS AND THE ROAD FROM HELL
There was one thing that I had missed doing on that first trip to South Africa that particularly stood out in my mind. There was already then a fledgling ski resort I had heard of called Tiffendell, but I had visited during October—long after the short South African ski season had come to an end. Of course, South Africa had been a beautiful experience, and I was happy to now have an excuse to return with my son.
In actual fact, South Africa has two ski areas, and the one with the longest history is the Matroosberg, near Cape Town, where Eddie Pells first skied in 1929 on a pair of boards that he brought home from Mürren, where he had learned the sport from the legendary Sir Arnold Lunn. Matroosberg also established the first lift—a rudimentary rope tow that pulled its first skiers up the mountain in 1957. At its best, Matroosberg offers more than 300 vertical meters of skiing.
Be that as it may, they do have a slight problem. They have no snowmaking equipment, and while South Africa has plenty of mountains and the winter temperature often plummets well below zero in the high elevations, the winter in this part of the world is the dry season.
That simple fact makes the country's other resort the only reliable place to ski. Tiffendell is the proud owner of nine snow guns and generally can offer skiing from early June to the beginning of September. Hence, it was Erik's and my destination.
We have all probably used the phrase "in the middle of nowhere" at sometime or another, but there is certainly no more fitting location on Earth to which that description applies than Tiffendell. South Africa is, in and of itself, close to the end of the world, so to speak, and the further south you travel, the deeper into the bush you get.
The complete story is in the coffee table book Skiing Around the World Volume II by Jimmy Petterson.
---