Skiing Slovenia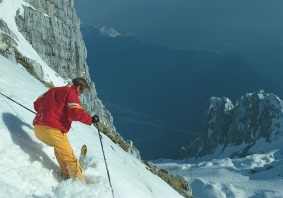 IT'S THE LITTLE THINGS THAT COUNT
Imagine a raw and undeveloped Austria, like Austria itself was about 50 years ago—poorer, cheaper and with only a few-odd ski lifts to dot the landscape here and there. Picture it with the same pristine lakes and jagged mountains, but the peaks are not quite as high. The country is smaller—one-fourth the size with one-fourth the population. There is no infrastructure in place for mass tourism, most of the skiers are local weekenders from the surrounding towns, and the friendliness of the people is genuine and unrelated to their quest for tourist dollars.
Wave the magic wand…abracadabra…poof…Slovenia!   This tiny nation is proof that good things do come in small packages. To begin with, it is the only part of former Yugoslavia to peacefully break away from the federation. A country of about 20,000 square kilometers, Slovenia is home to about two million people, and the Slovenians have a skiing tradition every bit as rich as its neighbor to the north, without all the hoopla, fanfare and media hype. The people here have been skiing for over 300 years, and there are around 50 ski areas in the country. They too are small, as only a few of the ski resorts have more than ten lifts and more than half of them have three lifts or less.
Two Italian border guards, who were apparently frontal-lobotomy victims, thumbed inexplicably through our passports, cross-checking the numbers against a moth-eaten, multi-thousand-page document, that might have been anything from a list of World War I casualties to a telephone directory of Tokyo. They checked the passport photos against our faces a dozen times.   Then they stared at our credentials for a while, as if they had never seen a passport before. After 20 minutes of this tedium, they waved us on.   The Slovenian border attendant, by contrast, shined us a friendly smile, did not even look in our little blue books, and said simply, "Welcome to Slovenia."
The complete story is in the coffee table book Skiing Around Volume I the World by Jimmy Petterson.
---