Skiing Scotland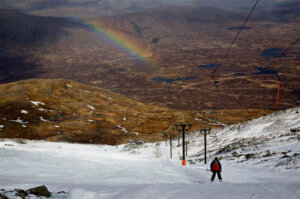 FOR THE BRAVE OF HEART
I am sitting in the small cafeteria at the base of the gondola at the Nevis Range ski resort. As I jot down these lines, my toes are just beginning to thaw out, my fingers are still numb, my underwear is soggy, my pullover is sopping, and my hair is wet and tangled. I wrung out my gloves and woolen ski hat before entering the restaurant, and I easily squeezed out a half kilo of water from each of them.  It was a day of Scottish skiing, and I loved every minute of it.
But please, let me go back and start at the beginning of this tale. That is, after all, where all stories should initiate.
I lived in the U.K. during the winter of 1972, doing my student teaching as part of an international exchange program set up through the University of Southern California.  I worked at both a British Comprehensive School close to Doncaster, in Yorkshire, and also at the junior high school on the U.S. Air Force Base of Woodbridge-Bentwaters, in East Anglia.
This was the winter of a major strike by the coalminers, which crippled the British economy for close to two months and impacted almost every household in Great Britain. At that time, most of Britain's electricity was run on coal, and the black gold was also a major source of heat for the country. At the school where I worked, we were often without heat in the classrooms during the school day, a situation that was not very conducive to learning during the months of January and February, in a school that was already in a rather rough neighborhood to begin with.
After school, the situation was no different. I lived with two teachers in a small two-story house, and we generally got home from school at around 4 p.m. We huddled around the gas stove in the kitchen for heat, opening the door to the oven to allow the gas to warm up the room. There were often power cuts for anywhere from 6-8 hours a day, and we usually had to prepare the next day's lessons by candlelight.
It was during that tumultuous winter of social unrest that my ski buddy, Nick Jellicoe, and I embarked upon a trip to ski in Cairngorm, Scotland, traveling north with an operation called the Weekend Ski Club. . .
The complete story is in the coffee table book Skiing Around the World Volume II by Jimmy Petterson.
---