Skiing Qatar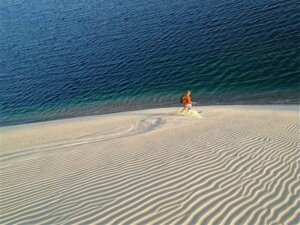 ADVENTURES IN SAND DUNE SURREALISM
I was extremely busy in the weeks leading up to my trip to the Middle East—too busy in fact to really read up very much about the interesting destination where I was headed. It was first when I fastened my seat belt on Qatar Airways that I had time to begin browsing my Lonely Planet book about the Arabian Peninsula.
Starting late on the research for an exotic and different part of the world is never a good idea, no matter how well seasoned a traveler one might be and regardless of how many stamps one might have already accrued in one's passport. No sooner had I opened my book, expecting to settle back in my seat and read about the Bedouin roots, the exotic food, the rolling sand dunes, and the labyrinth of souks, when something completely different jumped off the page and caught my attention. It was a small warning that mentioned that people traveling with an Israeli passport are not allowed entry in any of the Arabian countries, and neither are tourists who have an Israeli stamp in their passport.
Oops! No…Oh Shit is more appropriate.  Only eight months earlier, I had enjoyed a lovely holiday in Israel, skiing in their lone ski resort on Mt. Hermon. I now had a six-hour flight in front of me filled with the fear and trepidation that I would never get past the Qatari passport control desk and be sent on the next plane back to Europe. I cursed myself for my poor planning. I hurriedly looked how old this copy of the Lonely Planet guide was. It was, in fact, eight years old. Did I dare hope that the rules had changed since the book had been written? Maybe I would get an official who didn't look through the passports vigilantly page by page.
By the time I landed, my anxiety had increased of course . . .
The complete story is in the coffee table book Skiing Around the World Volume II by Jimmy Petterson.
---