Skiing Portugal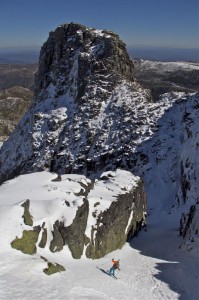 SKIING IN A SUMMER TOURIST COUNTRY
Nobody would think twice about hopping on a plane and flying to Portugal for a summer holiday. The Algarve coast, with its beautiful beaches, is well known, and Lisbon is a capital city with a rich history dating back to a time when this little country ruled the waves. Portugal was a force to be reckoned with in the age of exploration, so the Portuguese capital has for centuries been an interesting tourist destination.
Winter tourism, however, is a different story. By September, the hotels and restaurants of Albafuera and other beach resorts begin to shutter their windows and lock their doors, and sun worshippers must head further south to the Canary Isles or east to Asia for a beach holiday. Skiers and boarders, of course, wouldn't dream of traveling here to one of the southernmost sections of Europe to seek their snow fix.
While I can certainly understand that Portugal will never attract many foreign snow enthusiasts, there actually is one small ski resort in this Iberian country, and I am a skier who often skis to the beat of a different drummer. Where there is a pair of skis and some snow, there is most often the possibility for some adventure, even in the most unlikely destinations, and I was curious about the tiny ski resort in the Serra da Estrela Mountains.
Joining me on this bizarre quest were my son Erik and my friend Klaus Arpia. My son had an excuse for joining such a venture. One can chalk up his participation in this silly plan either to his devoted loyalty to a dad who is not playing with a full deck, or to the possibility that his father coerced him to participate in the journey. Klaus, on the other hand, one would have to conclude, is a lunatic of a similar ilk to myself.
The complete story is in the coffee table book Skiing Around the World Volume II by Jimmy Petterson.
---