Skiing Poland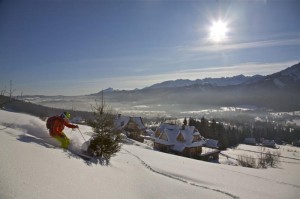 TRESPASSING AND FREERIDING
I arrived in Poland with my friends Jussi Hynninen, Jenni Kaipainen and Jakub Klaus on a sunny day…in high season. I suppose you can call that bad luck in an ironic sort of way. We met a lift line that was longer than a Depression era breadline.  It was actually about as long as the queue I encountered on my first visit here, before the renovation of the cable car. There was one difference. On my first visit, I was able to bribe a lift attendant to let me in the backdoor and cut the line. But this tried and true method of the old Communist system had since died a merciful death, or so it seemed. Try as we did, a bribe no longer seemed to work in the new order.
We made a quick retreat to plan B. There are a number of smaller ski area around the village, including Gubałówka, Szymoszkowa, Nosal, Harenda, and Witów. As before, they are still not organized on one ski pass.
Jakub is Polish and knew his way around these parts perfectly. Among other things, he knew that we all enjoy skiing off-piste. Therefore, he had an entirely different suggestion.
"We are going to ski the ski resorts that no longer exist," announced Jakub abruptly. "You know, there is not much off-piste skiing in Poland anyway as most of the skiing is below the tree line. And on Kasprowy Wierch, the one location that has some very good open terrain suitable for freeriding, it is illegal. It is certainly illegal what we are going to do as well, but here there will be nobody to enforce the law against our trespassing."
The complete story is in the coffee table book Skiing Around the World Volume II by Jimmy Petterson.
---