Skiing Peru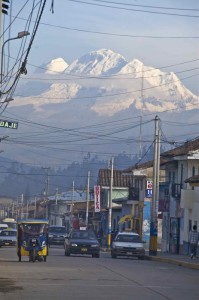 VANISHING TROPICAL GLACIERS, SANDDUNE SKIING, AND HISTORY'S LARGEST AVALANCHE
The last rays of light shone on Huascarán (6768 m), Peru's highest mountain, turning her icy, glaciated peak to crimson. In the valley below, night had begun to fall on the town of Yungay and some of the colorfully clad Indian street vendors were beginning to gather their wears together and head home. Others ignored the onset of night and would continue to peddle their goods long after darkness, hoping to add a few more soles to the family coffers. It was 1985, and I was here to see and understand the devastation that had befallen Yungay and the smaller village of Ranrahirca fifteen years earlier, when the worst avalanche disaster in history destroyed the towns entirely.
Anybody who is a skier knows something about avalanches. The word is part of the everyday lexicon of skiers and boarders. If they are riders who also enjoy gliding through the powder off-piste, they usually know more about avalanches than the average winter tourists, and perhaps they have even had a frightening encounter or two with a snowslide.
If one is going to discuss the Yungay avalanche, however, one has to discard the conventional frame of reference for the term avalanche entirely. Every year, the winter newspapers include sporadic stories of a skier or a small group of skiers killed by an avalanche. Sadly, that is a fact, and little can be done about it other than to try to better educate skiers in the vagaries of avalanche science.
Every now and then, in winters of heavy snowfall or under unusual circumstances, there are larger disasters. On the Kitzsteinhorn in 2000, twelve people were buried and died while on a ski-instructor's course. A year earlier, the infamous disaster in Galtür claimed the lives of 31 victims when parts of the village were buried after a big storm dumped four meters of snow on the nearby mountains.
These tragic incidents pale by comparison with the enormity of the natural catastrophe that hit Yungay on May 31, 1970. . .
The complete story is in the coffee table book Skiing Around the World Volume II by Jimmy Petterson.
---