Skiing Norway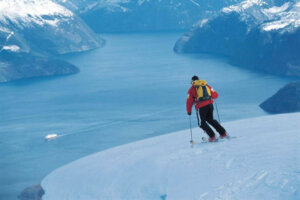 SKIING WITH A FJORD VIEW
If Narvik is not the end of the world, you can certainly see it from atop the Fagernesfjell, which rises 1272 meters directly up behind this remote Norwegian village. At 68.5 degrees north latitude, Narvik is situated about 250 kilometers north of the Arctic Circle, putting it on line with such other outposts of civilization such as Quasigiannguit, Greenland and Norilsk, Siberia.
If it were not for the Gulf Stream, only seals and polar bears would inhabit northern Norway. Instead, this mountainous promontory that juts spectacularly out into the sea between Rombaksfjord and Ofotfjord is filled with the colorful homes of about 18,000 Norwegians. With the exception of a few very knowledgeable freeriders, these 18,000 people are the only ones privy to the information that right behind their house is the best skiers' mountain in all of Scandinavia.
The skiing experience in Narvik is quite unique in the world of skiing. Imagine having a private mountain with around 900 vertical meters of skiing in your backyard. Pretend that the mountain has three T-bars, a chair lift and a gondola, it offers good pistes and exciting off-piste skiing and it is primarily at the disposal of you and your best ski cronies.
Now, come to Narvik and meet Ketil Singstad, the marketing director for Narvik Ski Center. He is the man with the keys to all the rides in this magnificent Nordic playground. He is also the leader of a pack of 20–30 crazy telemark skiers and snowboarders whose Viking ancestry is well documented by their devil-may-care abandon for life and limb.
I arrived here around eight o'clock on a pleasant evening in late April. Despite the late hour, the sun shone brightly on the northwest-facing bowls off the back side of Fagernesfjell. The snow was still a meter deep in many backyards in town. As I approached the mountain, I noticed that the lifts were still running. Halfway through my late evening meal in the Norlandia Narvik Hotell at the base of the mountain, I watched the skiers making their final descent of the day. It was 9:15 p.m. and the last rays of light shed a pinkish glow over the landscape.
The complete story is in the coffee table book Skiing Around Volume I the World by Jimmy Petterson.
---