Skiing Norway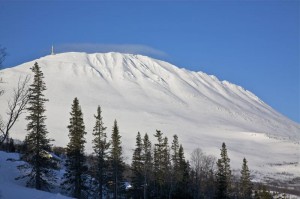 GAUSTATOPPEN AND THE WORLD'S WEIRDEST SKI LIFT
There are a few odd ski areas in the world that exist in a sort of time warp—living tribute to a bygone era of skiing before the advent of snow guns to make the snow and fleets of snow cats to flatten and groom it to perfection. These are mountains with few or no pistes that are dedicated to freeriders. La Grave in France was one of the first such ski areas to appear on the freerider radar, but such anomalies to the modern ski infrastructure are actually becoming more and more prevalent in this day and age when off-piste skiing has become so fashionable.
Austria's answer to La Grave is the Krippenstein; a few years ago, Jen and Aaron Brill threw up a used chairlift in Colorado and off-piste aficionados began visiting Silverton; and in the French Pyrenees, the cable car up the Pic du Midi, previously only available to observatory visitors, opened its doors to freeride skiers as well.
Now, Norway too has its own exclusive off-piste mountain—Gaustatoppen—and it can boast as radical terrain as the best of them and a ski lift that must rank among the strangest lifts of all time.
In the 1950s, the Russians had the CIA and the Americans nervous, and the mighty Gaustatoppen (1883 m) that rises like a white pyramidy above the village of Rjukan was of interest was of interest to spy on the Ruskies. This peak was well situated for radio surveillance to monitor the activity of Russian subs moving in and out of Murmansk, and the Yanks spent more than a million dollars to build a tunnel with a crude train up the through the mountain. The project was completed in 1959 and for more than 50 years, this train was a military installation operated by NATO.
Since 2010, what was once NATO's private domain is now open to freeriders every weekend and during holidays. My friend Carl Mårtensson and I felt compelled to visit and ski this most unusual mountain, and put it as the first stop on a ski road-trip through Norway. Our guide, a local extreme skier named Kjetil Lindblad met us at the entry to this bizarre "ski lift".
The complete story is in the coffee table book Skiing Around the World Volume II by Jimmy Petterson.
---