Skiing Moldova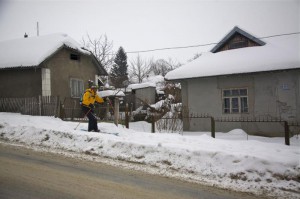 FOR HARDCORE COLLECTORS ONLY
I was planning my upcoming ski trip to the Ukraine, poring over Google maps to plot out our route from Vienna, when I noticed that at one point we would be no more than about four hours from the border of Moldova. I immediately began thinking, always a dangerous activity for a person with my sort of addictive personality.
I am always looking to add a new country to my list of ski conquests, and this seemed like a golden opportunity. Of course, I would have to convince my partners on my Ukrainian visit, Jussi Hynninen and Jenni Kaipainen, that this was a fun and reasonable way of spending a day as well as gas money and whatever other expenses we might incur. Jussi and Jenni are free and curious spirits, and they immediately were on board.
For those of you who did not have a lot of focus put on Moldova in your high school geography class, I should fill you in on a few details about this eastern European country. Formerly a part of the Soviet Union, this land of about 3.5 million inhabitants became an independent country in 1991, when the Soviet empire collapsed.
For the purposes of our plan, it is not really an ideal country for skiing. To begin with, there are no ski resorts. That is not so odd, since there are also no mountains. In fact, the highest point in the country is 430 meters, and that hilltop was nowhere close to where we were going to cross the border.
The complete story is in the coffee table book Skiing Around the World Volume II by Jimmy Petterson.