Skiing Italy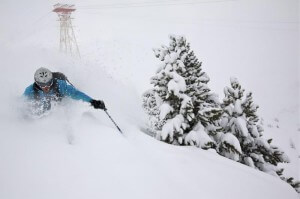 ALTA VALTELLINA—ROMAN BATHS, SECRET STASH, TAX FREE, AND THE BIG MOUNTAIN
When skiers think of skiing in Italy, probably the first resorts that come to mind are those of the Dolomites—Cortina, Val Gardena, Canazei and the like. Many skiers are also familiar with some of the top ski resorts in the far west of the country in the Aosta Valley, such as Courmayeur, Cervinia, and the Monterosa Region that includes Alagna, Champoluc, and Gressoney. Often lost in the shuffle, however, is the group of ski centers in the Valtellina Valley that is situated quite in the center of northern Italy along the border with Switzerland.
The Valtellina Valley is part of Lombardy, known for a variety of wines made primarily from the Nebbiolo grape as well as its Bitto cheese. Fine wine and tasty cheese is always a good starting point in Italy, but the Valtellina Valley offers more than just these pleasures for the palate—including four very interesting ski resorts that make up the Alta Valtellina ski pass.
The separate resorts of Bormio, Santa Caterina Valfurva, Valdidentro and Livigno joined forces some years back to form this ski conglomerate, which today consists of more than 60 lifts and about 225 kilometers of pistes. It is an unlikely marriage, as the four resorts are not at all lift-linked, and they are quite far from one another. In fact, it is more than 50 kilometers of winding mountain roads that separate them, and even in a car it takes about 75 minutes to drive from Santa Caterina, at one end of the system, to Livigno at the opposite end. The local buses will certainly take longer.
Strange bedfellows, however, are not necessarily bad partners, and these four areas compliment each other rather well. Bormio has the height, Livigno gives breadth and lift capacity, and little Santa Caterina and Valdidentro add solitude and authenticity. Believe me, in this day and age of over-marketed and over-populated summer and winter resorts, there is some true value in solitude.
The complete story is in the coffee table book Skiing Around the World Volume II by Jimmy Petterson.
---