Skiing Israel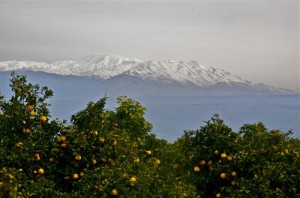 SKIING IN THE CRADLE OF CIVILIZATION
When I briefly met Arnon, an Israeli, at a winter conference for high-tech investors, I told him of my desire to ski someday in his native Israel. Less than a year later, I was winging my way along with my Italian friend, Nic Busca into the welcoming arms of Arnon and his family. We arrived at their home in Kfar Saba, about 30 kilometers north of Tel Aviv, to a classic Israeli meal of sliced cold cuts, Arabic salad (chopped tomatoes and cucumber), humus, anchovies, cheese, olives, and pita bread, and soon after dinner settled cozily into a comfy bed. We should get to sleep early according to Arnon's instructions, as we had a 4 a.m. alarm the next morning.
Skiing is popular in Israel, and with a short season and only one location in the country to practice the sport, Mt. Hermon would be crowded, even on a weekday.
"We want to beat the crowd, and get a full day of skiing," announced Arnon, so with bleary eyes, we headed north shortly before five the following morning.
I must admit that I wasn't really expecting too much—after all Israel is not really known as a ski paradise. In a land of pilgrims, this ski trip was my own personal pilgrimage. Israel is a holy land revered and visited by millions of people of the Jewish, Christian, and Muslim faiths. Skiing is my religion, and I intended Israel to be the 59th country in which I would ski. I looked forward to do a bit of relaxed carving in some balmy Mideast sunshine. As usual, things did not evolve according to my preconceptions…
The complete story is in the coffee table book Skiing Around the World Volume II by Jimmy Petterson.
---