Skiing India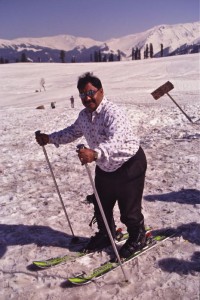 SPRINGTIME IN THE HIMALAYAS—CURRY AND CORN SNOW
The manager of the gondola had promised to open the lift early for us because we were there to write and photograph for a magazine.  We were told to be at the base at 9:30 instead of 10:00.  I admit that 30 minutes is not much of a concession, but it seemed like a nice gesture.
We arrived at 9:30 sharp, but the manager was nowhere to be seen, and in fact, neither was anybody else, except an Indian soldier with a rifle—presumably protecting the ski lift from any possible terrorist mischief.  At about 10:00, the employees started sauntering slowly into their positions, and by 10:10, we were on our way up…to the middle station.
There we waited until 11:15 before stage two was ready to give us a ride to the peak.  When the man from whom we should purchase our lift ticket finally arrived, I asked him why the lift is opening so late.
"'Late is not a bad word here", he answered with a wry smile, "I lo-o-o-o-ve late."
A local mountain guide was waiting patiently along side us, and I asked him as well why the lift did not open on schedule.  His answer was as simple as it is true.
He replied, "This is India."
Specifically, this incident transpired in the ski resort of Gulmarg, situated in the Indian province of Kashmir.
You might wonder why anyone would cross halfway around the world to ski in a location where the fate of your holiday rested in the hands of bureaucrats and laborers who are well known for their lack of competence, and where the entire system makes the mañana mentality of South America look like a prototype of German efficiency.
That answer is simple as well.  The two-stage gondola rises up Mt. Apharwat to an elevation of 3980 meters—the highest gondola in the world built for skiers.  From there, one has a series of long, steep ridges and bowls on either side. One of the sub-peaks, at 4124 meters, is an easy hike from the top station, and that trek gives access to even more off-piste terrain.  For a freerider, Mt. Apharwat is the equivalent of Nirvana.
The complete story is in the coffee table book Skiing Around the World Volume II by Jimmy Petterson.
---