Skiing France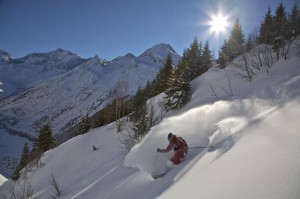 LA PLAGNE/LES ARCS—TWO VOLTAREN AND A BOX OF VIAGRA
Next on our road-trip agenda was the double resort of La Plagne and Les Arcs, now marketed as Paradiski. I had visited both of these ski areas in my younger days, long before they were linked together. In 2003, the Vanoise Express, a double-decker cable car that holds 200 passengers was hung across the valley that separated the two resorts, connecting them into what is today one of the largest ski areas in the world.
As we drove north from Alp d'Huez, I couldn't help but reminisce with fondness about some of my earlier visits to this region. As a young ski bum, I generally began my season in Austria, instructing and later singing, but as the season wore on and winter morphed into spring, I invariably migrated further west to the higher French Alps, thus extending my winter. Sometime in April, I would invariably arrive in La Plagne, Tignes, or Val Thorens.
Usually I found a spare bed with a group of ski bums in one of the many tiny, poorly built apartments that characterized these purpose-built French resorts. Built of concrete and steel and held together with chewing gum and super-glue, these enormous structures of the seventies were showing major signs of wear almost before the construction was complete. Most of the units were one or two room rabbit holes with a tiny galley kitchen. They were suitable for two people, very tight for four, and had beds for six, albeit mostly bunk beds. There was space for six people in the flat…if they all stayed in bed, but it got quite congested the moment people started moving around in the apartment.
As we drove, I shared some of my memories with Carl and Klaus. "It was crazy," I related. "Imagine six ski bums and all their gear coexisting in about 35 square meters. It was like living in our car… for the whole ski season. Imagine when they all got back to the flat after a snowy day and wanted to dry six sets of ski gloves, hats, sweaters, jackets, socks and boots on the three small heaters…."
The complete story is in the coffee table book Skiing Around the World Volume II by Jimmy Petterson.
---