Skiing Estonia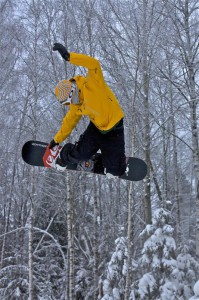 THE COUNTRY'S STEEPEST SLOPE?
I ferried across from Helsinki to Tallinn with my friend Kalle Aaltonen and we began our winter holiday in that old Hanseatic town. To wander through the cobblestone streets of the Old Town is a time-machine trip into a previous epoch. We hung out for a while in the Town Hall Square, enjoying the small souvenir stands surrounded by buildings right out of Canterbury Tales.
Then we strolled up Cathedral Hill past the Alexander Nevsky Orthodox church to the Toompea Castle. Around every corner, I half expected to run into Robin Hood, Friar Tuck, and Little John, or a group of soldiers loyal to the Czar. The architectural contributions of the Danes, Swedes, Germans and Russians blended together as seamlessly as the instruments of an orchestra playing a Beethoven symphony. All the while the soft white cover of new-fallen snow added to the fairytale atmosphere. It put me in a perfect mood for the days that lay ahead.
Kalle and I drove to the southern part of Estonia to their "best" ski resort, Otepää…
The complete story is in the coffee table book Skiing Around the World Volume II by Jimmy Petterson.
---