Skiing Ecuador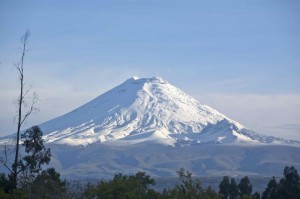 LAND OF MANY FACES
The first time I traveled to South America, in the mid-1980s, Ecuador was some sort of touristic backwater. The backpackers and other travelers visited Peru, Argentina, Brazil, Chile, and even poor, landlocked Bolivia, and if they had enough cash, they might have made it out to Ecuador's famous Galapagos Islands, but mainland Ecuador was not really part of the gringo trail. Foreign visitors traipsed up to Machu Picchu, flew over the Nazca Lines, and visited Cuzco and Lake Titicaca's floating islands in Peru. They ate Argentine steaks and partied in Buenos Aires, they soaked in the sun and ogled the string bikinis and the flesh within them in Rio, and perhaps they saw some of the volcanoes of Chile or even trekked around a bit in Patagonia, but Ecuador…not likely.
Twenty-five years later, things look mighty different in this part of the world. While the former tourist haunts are still as popular destinations as they ever were, little Ecuador has truly come into its own. Travelers have come to realize that this compact nation offers amazing diversity, a plethora of adventure-sports opportunities, and an indigenous population that proudly maintains much of their Indian traditions, and it all lies within a relatively small area. Whether your passion is river rafting, biking, canyoning, trekking, canoeing, ski-mountaineering or just plain hanging out, Ecuador's menu will satisfy your needs. The interior includes some of the most pristine and undeveloped jungle left on the planet, the middle of the country is lined with a string of snow-capped, pyramid-shaped volcanoes that tower magnificently above their surroundings, and interspersed throughout the country are various exciting rivers and canyons to explore. In addition to all that, the desert-like Galapagos Islands with their unique animal life is still the same one-of-a-kind experience that it was when I first visited this part of the world so many years earlier.
My passion is skiing, and it was that love of gliding over snow, first and foremost, that brought me back to this wonderful country. I had my sights set on Mt. Cotopaxi (5897 m).
The complete story is in the coffee table book Skiing Around the World Volume II by Jimmy Petterson.
---