Skiing Denmark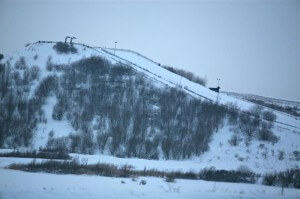 THE HAPPIEST SKIERS ON EARTH
Denmark is a pleasant enough country. They make excellent beer, the girls are gorgeous, and according to rather extensive research by the Organization for Economic Co-operation, the Danes are the happiest people in the world. Having spent a fair amount of time in Denmark, I can readily understand that, especially because of the relevance of good brew and buxom babes to the happiness quotient among the male half of the population.
Nevertheless, as an avid skier, I must admit that Denmark is a bit inadequate in that category. Their high score on the happiness charts comes despite their skiing possibilities rather than because of them.
Admittedly, the gigantic island of ice and snow known inappropriately as Greenland is part of the Kingdom of Denmark. That fact, however, is not of much help to the average Dane who sits happily drinking his Pilsner in Copenhagen, Århus or Åalborg. When he feels like strapping on his boards on Sunday morning and getting a bit of exercise on the slopes, Greenland is a bit too far afield from Denmark proper for a Sunday outing.
Surprisingly, however, there are a number of so-called ski areas in Denmark itself in case there is enough snow to put them into motion. That Denmark has any ski hills at all is a bit of shock, because the highest point in the country, Greenland notwithstanding, is Møllehøj, which rise to a mighty summit of 170.86 meters—not exactly stellar credentials for Alpine ski terrain.
The complete story is in the coffee table book Skiing Around the World Volume II by Jimmy Petterson.
---