Skiing Canada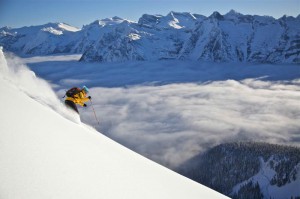 MUSTANG POWDER CAT SKIING — ELITE EXPERIENCE FOR RUGGED INDIVIDUALS
About ten years after Hans Gmoser revolutionized the ski world with his invention of heliskiing, another innovative powder-skiing concept came out of Canada—lodge-based snowcat skiing. Heliskiing caught on rather quickly with the world's ski elite, and soon proliferated far beyond its roots in Canada. Operations popped up in the Alps as well as many of the remote mountain ranges of the world, including the Himalayas of India, the Tien Shan Mountains of Kazakhstan, the Chugach range in Alaska, and the Andes of Chile, to name a few. Cat skiing, on the other hand, has had an entirely different history.
Alan Drury and his company, Selkirk Wilderness first started taking skiers up some logging roads and snow roads near Meadow Creek, BC in 1976. Soon after that, a second operation, Great Northern Cat Skiing initiated by Brent McCorquodale, began in nearby Trout Lake. For a long time, that was the extent of cat skiing. Somehow, the elitists of the ski world were more attracted to the speed and ease as well as the exclusive nature of reaching mountaintops by helicopter. The snowcat seemed more like a tool for loggers and truckers than for ski enthusiasts from corporate America or the old ski aristocracy from Germany or the U.K.
Last winter, my friend George Koch, my son Erik, and I parked our car seemingly in the middle of nowhere along the Trans Canada Highway between Revelstoke and Sicamous to try this Canadian invention of cat skiing. We had a cup of coffee at the Skyline Truck Stop, where we were soon met by a yellow school bus. Along with a couple dozen other hardy ski enthusiasts, we were then transported by bus and then by cat to the Mustang Powder Lodge.
The complete story is in the coffee table book Skiing Around the World Volume II by Jimmy Petterson.
---