Skiing Bosnia-Herzegovina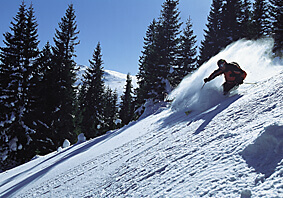 BOSNIA AND HERZEGOVINA — POWDER LINES AND LAND MINES
My Swiss buddy, Rafael Betschart, packed his Volkswagen van with the precision of a Swiss watchmaker adjusting and calibrating the moving parts of a Rolex.  Rucksacks were placed in a neat row and an elastic band was run through the loops of each pack to keep them standing upright on the journey.  My luggage was packed all in the same area for easy access from the back door.  Road maps, pen, note pad and organizer were neatly situated in a home made box between the driver and the front passenger seat. Five pairs of skis and a snowboard were packed in along the inside panel of the van, and ski boots were lined up near the warm air vents for obvious reasons.
Frenchman Jean Michel and I observed with amazement as Rafi worked. Once he had finished his meticulous packing, we were ready to travel into the former domain of Marshal Josip Tito. Yugoslavia, held together for 35 years by Tito's iron leadership, sadly disintegrated and imploded shortly after his death. Regional quibbling and religious differences have seen this beautiful country destroyed by wars and separated into a handful of separate lands during the 1990s.
Some of the areas were harder hit than others, and Sarajevo, the Bosnian site of the 1984 Winter Olympics, was unfortunately a center of wartime activity. Here, the inhabitants of the city valiantly withstood a three-year siege at the hands of the Serbs. Surrounded by Serb forces, they built an amazing 1.5-meter-wide tunnel that acted as a lifeline to the outside world, and they endured thousands of their civilian citizenry being picked off one-by-one by Serb snipers.
As always, however, out of the dust comes a process of rebuilding and rebirth, and we had come to discover the Bosnia of today—a region that has remained rather devoid of ski tourism in recent years.
The tone for the trip was set at the border crossing into Bosnia and Herzegovina. While one border guard scrutinized our passports, matching each one with a face, another guard opened the back door of the van, revealing our whole array of ski equipment.
She then asked the lucid question, "Vhat do you plan to do here?"
The complete story is in the coffee table book Skiing Around Volume I the World by Jimmy Petterson.
---