Skiing Bolivia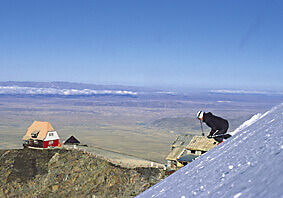 CHACALTAYA — THE WORLD'S HIGHEST "SKY" RESORT?
Toward the end of the film Butch Cassidy and the Sundance Kid, the two protagonists head optimistically to rob banks in Bolivia, because the banks had not progressed past the use of very primitive safes that could easily be cracked. Upon their arrival, however, they discovered to their dismay that the safes were not the only things that were utterly basic. Ultimately, they met their fate in a desolate pueblo which made some of the loosely thrown-together gold-rush towns of the Wild West seem like midtown Manhattan. Suffice it to say that Bolivia has not made too much progress since those late 1800s.
Despite the primitive state of almost all parts of life in Bolivia, the country is a lovely place to visit as a result of, among other things, an array of spectacular glacial peaks, some of which tower in the neighborhood of 6500 meters above sea level. La Paz, at 3640 meters the world's highest capital city, is surrounded by such giants, and among them, only 90 minutes' drive from the city center, is Chacaltaya, the oldest ski area in South America.
Ski trivia buffs will also know that, more importantly, Chacaltaya has for years laid claim to the status of the highest ski resort in the world. Despite this fact, it has always been a bit of a mystery as to the true height of the summit. Credit Bolivia's total disregard for detail. Normally, one would think that a location proclaimed to be the highest would proudly announce its exact elevation on signs, maps and marketing literature—not so in Bolivia!
During a visit I made to Chacaltaya, a large sign in the dining room of the refugio (below the summit) proclaimed the spot to be 5270 meters high, while in the adjoining room, a plaque announced an elevation of 5300 meters. The peak itself bore no such marking whatsoever. One of the local employees said that the top was 5600 meters high, and a member of Club Andino, who was with us on our day trip, put the peak's height at 5370 meters. The president of Club Andino had no idea.
My edition of the South American Handbook, known as "the bible" to most gringos who travel on this continent, listed the elevation as 5570 meters, and The World Ski and Snowboarding Guide, compiled by ski trivia's supreme commander, Patrick Thorne, pegs it at 5421 meters!
Patrick's figure sounds reasonable, but for a brief time in 2004, accuracy became irrelevant. In an 80-page treatise entitled The World's Highest Lifts, Patrick dethroned Chacaltaya from its honored position atop…
The complete story is in the coffee table book Skiing Around Volume I the World by Jimmy Petterson.
---