Skiing Belarus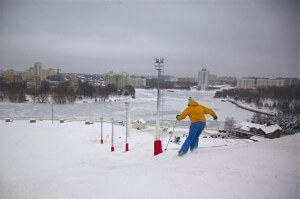 INDUSTRIAL SKIING AND MINI-SKIRTS
One of the three beginners practicing their ski technique on the dry-land ski slope indoors at the Solnechnaya Dolina ski center in Minsk asked me where I was from, while negotiating a good snowplow turn on the moving carpet. I told her that I was from the United States but now lived in Sweden.
"We have no mountains, and I think you have some real mountains where you come from. Why are you skiing here in Belarus?" she inquired.
It was a reasonable question. I had just spent the last hour doing laps on the 40 vertical meters available for skiing in the outdoor part of the ski center. The beginner's tow and platter-pull lift take skiers up what looks to be a manmade hill situated above a frozen pond and surrounded by many drab Soviet-era blocks of flats and about a dozen industrial chimneys belching out smoke.
The ski hill is short, the weather was as grey as the surroundings, and there were no rugged mountains or thick forests of pines to enhance my communion with nature. Here in the heart of an industrial suburb of Minsk, skiing and boarding was a recreational reprieve from urban life.
"I like to travel and I like to ski," I replied. "It is my first visit to Belarus, and believe it or not, I have come here with the specific goal of skiing. It is the 65th country in which I have practiced my favorite sport. But I have also come to experience a new country, meet local people, and get a general understanding about Belarus."
"Welcome," she said with a friendly smile. "I hope you have a very good time here."
The complete story is in the coffee table book Skiing Around the World Volume II by Jimmy Petterson.
---