Skiing Azerbaijan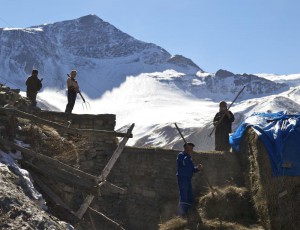 POWDER, OIL AND HOSPITALITY ON THE SILK ROAD
I drove to Malpensa airport outside Milano a few days before my departure for Azerbaijan, because I needed to organize a rental car for my destination. The usual row of international agencies all had their offices neatly lined one after another—Enterprise, Budget, Sixt, Hertz, Avis, and a half dozen more. My efforts, however, were to no avail. Most of the employees looked rather perplexed when I asked for a rental car In Baku. When I explained that it was the capital city of Azerbaijan, the replies varied from "Where is that?" to "What is that?"
Some looked shocked when I explained that it was a country not so far away from their own native Europe. But even with their increased awareness, nobody could be of help, because, pure and simple, none of the Western car agencies offer service in Baku.
As it turned out, this was the least of my problems. My friend Robert Heim was going to accompany me on this trip to ski Azerbaijan's first and newly opened ski resort. Shortly after I returned to my hotel in Milano, I got a call from Robert.
"Jimmy, I'm very sorry, but I can't come," he lamented sadly.
"Why? What's happened?" I asked.
"Problems with the visa," was his reply. "I was misinformed. I thought I could get a visa in a week, and I already purchased my flight, but, now, upon phoning the embassy, they told me it would take at least two weeks—maybe longer—to organize a visa. They told me at the embassy that there is absolutely no chance."
The complete story is in the coffee table book Skiing Around the World Volume II by Jimmy Petterson.
---