Skiing Austria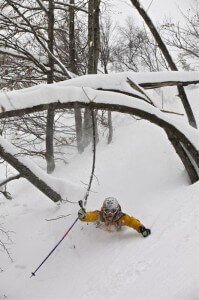 IN THE SHADOW OF THE DACHSTEIN
The mighty Dachstein has towered, larger than life, over me ever since I was a small boy. It hung over my existence not unlike the large painting of it that adorned the mantelpiece above the fireplace of Uncle Edi's Los Angeles home.  The Dachstein was ever present in our home as well. While Edi's painting portrayed the Gosau Glacier high above the stern dark waters of the Gosausee, in our hallway in Beverly Hills hung a different painting, this one showing the Hallstatt glacier looming above the Altausseer See.
As a small boy, I did not understand what significance this mountain held for my mother and her family, nor did I ask. Then, when I was nine years old, we took a family vacation to "the old country" for the first time.  Among our travels, we visited Altaussee in Austria, a picturesque village where my great-grandfather had bought a summerhouse in 1884. My grandmother had been born in that house, and my mother and her family had spent their summer vacations in Altaussee ever since.  Ever since—that is—until the dark cloud of Nazism cast its shadow over Austria and its beautiful Alps, and my family became refugees, fleeing to the safe haven of America.
I have, over the years, come to understand how the Dachstein's eternal coat of white symbolized Austria—home for my mother, Uncle Edi, and my grandmother—for all those long years that they were separated from the land of their birth.  Those paintings hanging in our homes were an everyday reminder of their roots—a nostalgic scene from their youth.
Strangely enough, despite my family's connection with the Dachstein, she has always been a summer mountain for me and never been a part of my winter. I come to ski in Austria every winter, but my ski adventures have always taken me further west to the larger and more famous ski areas of the Arlberg, Saalbach, the Zillertal, or the Ötztal.
After so many years, I hardly anticipated discovering a new aspect of the Dachstein, but that is exactly what has happened…
The complete story is in the coffee table book Skiing Around the World Volume II by Jimmy Petterson.
---