Skiing Armenia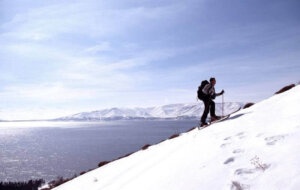 Connecting People
Armenia and Armenians first took on some personal significance for me in 1984, when I took on a job teaching social studies at Le Conte Junior High School in Los Angeles.  Le Conte was at that time the most culturally diverse school in the huge L.A. school system, with more than 50 nationalities represented, and I worked for the bilingual department.  I taught children who had learned enough English to be placed into history classes, but who were not yet proficient enough in their adopted language so as to be taught alongside native English speakers.
I taught ninth-grade social studies, using a fifth grade text book, and tried to create some sense of organizational structure in a classroom where, in one and the same class, I had children from Armenia, El Salvador, Thailand, the Philippines, Poland, Argentina, Mexico, Cambodia, Guatemala, Korea, and Vietnam.  Kids sat, of course, among their countrymen, and as I wrote information on the blackboard, they chattered away incessantly, trying to help each other understand my lessons. They flipped through their dictionaries, scribbled down notes, and tried to make some sense out of their new environment.
My Armenian charges were very lively, animated and full of warmth and caring for me as their teacher. There was a natural friendliness in their nature.  They bubbled over with questions, laughed and joked with me and worked their way into my heart.
I determined at that time that I would some day like to visit this country of warm, friendly people.  More than 20 years later, I flew with my friend Ari Heinilä to Yerevan, the capital of Armenia.  My intention was to learn more about this country that was introduced to me so many years earlier and to ski in Tsaghkadzor, Armenia's lone ski resort, situated less than an hour's drive from the capital.
Now the tables were turned on me from so many years before, in my classroom.  I was the foreigner who spoke not a word of Armenian, and I found myself in a country where very few people spoke English.  Communication was difficult to say the least.
The complete story is in the coffee table book Skiing Around the World Volume II by Jimmy Petterson.
---