In 2007, springboarding on the success of Skiing Around the World, Jimmy traveled with Finnish film producer Ari Heinilä to the six above mentioned destinations to produce a TV series. The episodes include three main ingredients—good skiing, travel, and a story.  They are not strictly ski films, nor are they travelogues.  The key element in each episode is a story carried by Jimmy's sense of humour and spiced by his guitar music and the ski-bum lifestyle.
Episode 1: Saalbach, Austria
This first episode is an introduction of the host and his life, and also features Saalbach, the first stop on his 45-year "career" as a ski bum. It introduces Jimmy's book and establishes credibility to his role as host of this mini-series. Jimmy still makes Saalbach his home base in the ski world, and we will find out why this is still his choice after having skied in more than 70 countries. This show opens with Jimmy singing "Greenback Dollar" while driving to Saalbach. The vagabond storyline of the song's lyrics sets the philosophical tone of the series. Jimmy shows us the famous after-ski at the Hinterhagalm, the sledding down from the Spielberghaus, some of his favorite off-piste descents, and much more. He visits one of his favorite locations in the area, the Schloss Kammer, a castle/hotel where they make their own schnapps in their barnyard distillery. This episode also establishes Jimmy's style as an unconvent
ional host of the series.  He is a penny-pinching, happy go lucky, singing, vagabond ski bum.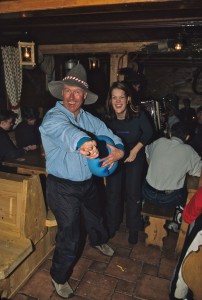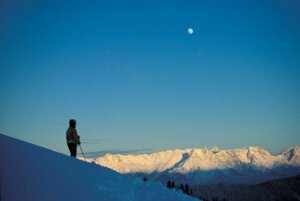 Episode 2: Gulmarg, India
-Gulmarg is a ski resort in Kahsmir with the highest gondola in the world that is built for skiing. It rises to 3980 meters and one skis in the shadow of Mt. Nanga Parbat (8125 m). In Gulmarg, we meet Yasin, a guide who is an illiterate Kahsmiri man, but shoe kindness and local knowledge proves that literacy is not always that relevant. He tells us about the snow leopard and the yeti. Do you believe in the yeti? What about another local legend–that Jesus Christ survived the crudirision and lived to be an old man in Srinagar! We visit what is supposed to be his tomb. We ski beautiful corn snow and meet monkeys in the forests below the slopes. At the middle station, the locals try to learn to ski and that is like a three-ring circus. The story also includes many interesting  aspects of Kashmiri culture, with its water pipes, crazy traffic, houseboats and shikaras (gondola-shaped boats) on Daal Lake.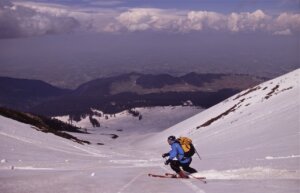 Episode 3: Krasnaya Polyana, Russia
The favorite ski resort of President Putin, Krasnaya Polyana was an almost unknown powder paradise when Jimmy and Ari visit in this 2007 episode… but they suspect that the peace and tranquility may soon change. Nearby Sochi, has been nominated to host the Olympics in 2014, and Jimmy suspects they will win the honor.
This episode shows both Sochi and Krasnaya, looks at what some locals think about the prospect of their mountain hosting the Olympics and does some soul-searching about the pros and cons of that event coming to this region.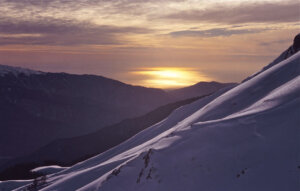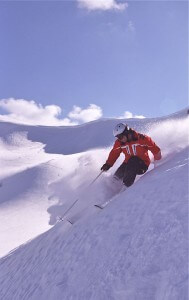 Episode 4: Les Marécottes, Switzerland
Besides visiting exotic and remote ski areas, another niche of Jimmy Petterson's journalism has been to visit small, little-known powder paradises in the heart of the Alps. Les Marécottes falls into that category. There, the Falquet brothers are local, world famous, freeriders and innovative ski-film makers with an interesting story to investigate. They make films featuring off-piste skiing at night! They take their life in their hands hucking cliffs in conditions of darkness. There is some stunning night footage here. Jimmy looks at the current trend toward extreme skiing and wonders if it is necessary to have one's life at stake to get a kick out of skiing? But this is not all. Jimmy visits nearby Salvan, where future Nobel-Prize winner, Guglielmo Marconi, first successfully tested wireless communication. He also meets a ski-instructor/farmer in this conservative Swiss village, learns to milk a cow with him and realizes that the old traditions live on here. It is a wonderful experience to visit small ski areas that have NOT turned into a cog of the ski industry, but maintain their old-world charm.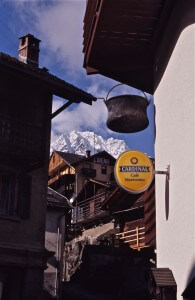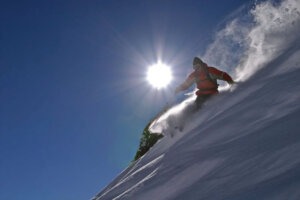 Episode 5: Narvik, Norway
Skiing's origins go back to telemark skiing in Norway. Today, many experts consider Joonas Karhumaa, a 22-year-old Finn, to be one of the best telemark skiers in the world. He has taken this old ski technique to new levels. In this episode Joonas joins us above the Arctic Circle in Narvik—a visually beautiful region to ski, as the dark blue fjord waters shimmer at the base of the mountain. Besides skiing in the conventional resort of Narvik, we travel with a unique local kind of fishing boat that uses a square Viking type of sail, to reach virgin slopes. We also join the local Lapp reindeer herder for a bit of adventure far from the pistes.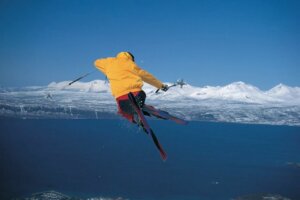 Episode 6: Tsaghkadzor, Armenia
Not far from the Armenian capital of Yerevan is the resort of Tsaghkadzor on the Eastern slope of Mt Teghenis. While Krasnaya Polyana might soon become a household name, Tsaghkadzor is destined to remain in obscurity. Why visit such a ski resort? Because nobody else does.  Because we are curious. Because it exists. We want to discover culture and people. We discover that Mt. Ararat, now across the border in Turkey, is still the national symbol of Armenia. Hey, maybe Noah's Arc is hidden under the snow in Armenia rather than on Ararat! We go in search of the arc on a ski tour high above Armenia's largest body of water, Lake Sevan. We also visit a strange ancient observatory similar to Stonehenge, except that nobody knows about it. We learn that Armenia is a land of ancient churches and monasteries dotted across the landscape as well as kind and generous people. Finally, we visit the Ararat brandy distillery, the only brandy to ever have French sanction to call itself a cognac.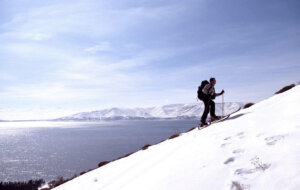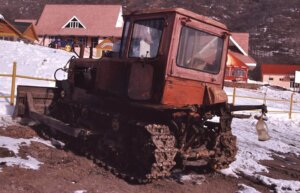 Episode 7: Putin's Olympics
In 2013, Jimmy, Ari, and their Russian friend Oleg return to Krasnaya and Sochi, as the Russians are frantically trying to complete the Olympic venues on time. They come, fearful that the cozy little ski village and the powder paradise they discovered seven years earlier will have been destroyed by construction, publicity, and big money. In the meantime, the upcoming Olympics has been fraught with cost over runs and accusations of corruption. Nevertheless, Jimmy and company are determined to give an objective look at the changes and the prospects for the future of Krasnaya Polyana.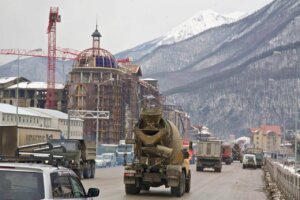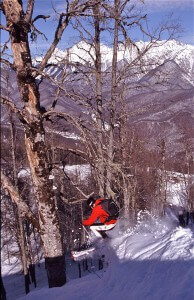 Each episode is about 22 minutes long and is in English.