Skiing Lithuania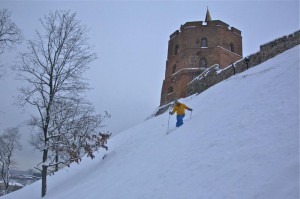 THE SNOW DOME, IGNALINA AND TOWER HILL
Lithuania here we come. This is the largest and flattest of the Baltic countries, with the highest point of the nation at slightly under 294 meters. This little nation offered a real potpourri of ski experiences, beginning right in Vilnius. There, I met my buddy Simonas Skupas, who took me on a short, guided tour of the city, which included a visit to see the historic 15th century tower on the 40-meter high mound in the center of town known as Gediminas Hill.
"Simonas, our ski equipment is right here in the car," I reminded him. "There is probably better powder right here in Vlinius than in the ski resort, and I am quite sure there are no tracks from other skiers."
"Let's do it," answered my Lithuanian friend. "I have lived here my whole life, and it takes a visit from you to inspire me to do something a little crazy like this."
The complete story is in the coffee table book Skiing Around the World Volume II by Jimmy Petterson.
---